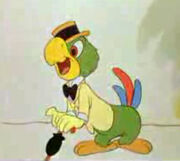 The Three Caballeros
is a 1945 animated package feature, and is the 7th movie in the Walt Disney Animated Classics canon. The film was produced by Walt Disney, and was directed by Norman Ferguson. In the movie, Donald Duck and his friends Jose Carioca (from
Saludos Amigos
) and Panchito Pistoles (a new character; a pistol-packing Mexican rooster) celebrate Donald's birthday by visiting Mexico and Latin America.
The Three Caballeros
is a sequel to Disney's previous animated movie,
Saludos Amigos
(1943). The music for the segments set in Mexico was written by Mexican composer Manuel Esperon, who wrote the score for over 540 Mexican movies in the Golden Age of Mexican Cinema.