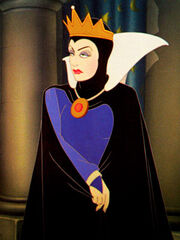 Queen Grimhilde
is the main antagonist of Disney's classic masterpiece
Snow White and the Seven Dwarfs
(1937). She is a cruel, wicked, vain, and evil queen, who wants nothing more than to see Snow White dead. Why? Because the Magic Mirror on the Wall told her that Snow White was the fairest in the land. The Queen sends her faithful huntsman to kill Snow White and place her heart in a box, but he couldn't bring himself to do the job and he told Snow White to run away. Because of the huntsman's failure, the Queen decides to take matters into her own hands, and she makes a potion to turn herself into an ugly old hag so she can give Snow White a poisoned "wishing" apple, resulting in one of the scariest transformation scenes in animation history. After giving Snow White the poisoned apple, the Queen is chased by the Seven Dwarfs, and falls to her death from a high cliff.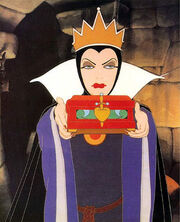 The Queen was voiced by Lucille LaVerne.
Community content is available under
CC-BY-SA
unless otherwise noted.