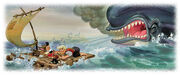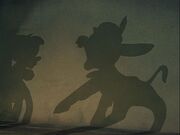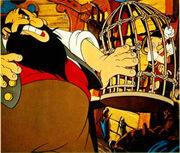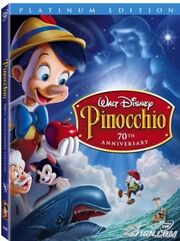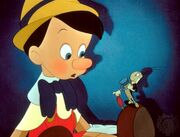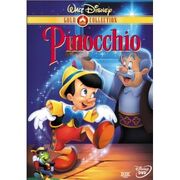 Pinocchio
is a 1940 animated feature film, and the second film in the Walt Disney Animated Classics canon. The film is based on the story by Italian writer Carlo Collodi. It was produced by Walt Disney, and was directed by Ben Sharpsteen, Hamilton Luske, Norman Ferguson, T. Hee, Wilfred Jackson, Jack Kinney, and Bill Roberts

The movie is about an elderly wood-carver named Geppetto who makes a marionette named Pinocchio. After making a wish, Geppetto's "little wooden head" is brought to life by the beautiful Blue Fairy. The Blue Fairy hires Jiminy Cricket, one of Disney's most famous characters, to be Pinocchio's conscience. When Geppetto meets his new living puppet Pinocchio, he sends Pinocchio to school to learn, but Pinocchio is easily tempted by two conniving con-artists named Honest John and Gideon, who convince Pinocchio to join Stromboli's marionette show. After escaping from the abusive Stromboli, Pinocchio and Jiminy are tricked once again by Honest John and Gideon into going to "Pleasure Island," a paradise for bad boys with a dark secret: After having a ball committing crimes, getting drunk, and beating the hell out of each other, the boys are turned into donkeys and shipped to salt mines. Jiminy and Pinocchio escape and find their way home, only to discover that Geppetto was swallowed by Monstro the Whale while searching for them. Pinocchio and Jiminy try to find Monstro, and end up getting swallowed, being reunited with Geppetto. The three of them proceed to start a fire in Monstro's mouth to make him sneeze, resulting in their escape. At the very end of the movie, Pinocchio is turned into a real boy, and Jiminy is rewarded a gold badge in honor of his services to Pinocchio and the Blue Fairy.
The film is considered one of the greatest animated films ever made. The song "When You Wish Upon a Star" won an Academy Award for Best Original Song. In 1994, Pinocchio was selected for preservation in the United States National Film Registry. On the website Rotten Tomatoes, the film has a 100% certified "Fresh" rating. Hewylewis (YouTube) placed Monstro the Whale at #5 on his "Top 10 Scariest Animated Monsters" list. The film also won an Academy Award for Best Original Score.
AFI recognition: "AFI's 100 Years...100 Movies" (nominated); "AFI's 100 Years...100 Thrills" (nominated); "AFI's 100 Years...100 Heroes and Villains" ("Stromboli," nominated villain); "AFI's 100 Years...100 Songs" ("When You Wish Upon a Star," #7); "AFI's 100 Years...100 Movie Quotes" ("A lie keeps growing and growing until it's as plain as the nose on your face," nominated quote); "AFI's Greatest Movie Musicals" (nominated); "AFI's 100 Years...100 Cheers" (#38); "AFI's 100 Years...100 Movies (10th Anniversary Edition)" (nominated); and "AFI's 10 Top 10" (#2 animated film).
Community content is available under
CC-BY-SA
unless otherwise noted.