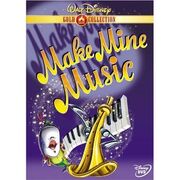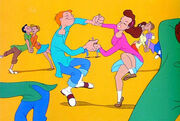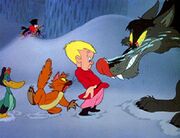 Make Mine Music
is a 1946 animated musical concert package film, and is the eighth film in the Walt Disney Animated Classics canon. The film was produced by Walt Disney, and was directed by Jack Kinney, Clyde Geronimi, Hamilton Luske, Joshua Meador, and Robert Cormack.
Make Mine Music
is the fourth of Disney's 1940's package features, after
Fantasia
(1940),
Saludos Amigos
(1943), and
The Three Caballeros
(1945), and was entered into the 1946 Cannes Film Festival.
The ten segments in this movie include: The Martins and the Coys (featuring the popular radio vocal group King's Men singing the story of a Hatfields and McCoys-style family feud in the mountains that is broken up when a Romeo and Juliet-style romance begins between two young people from the opposite warring families), Blue Bayou (featuring animation originally intended for Fantasia using the musical composition Clair de Lune by Claude Debussy, but in this film, the song was replaced by Blue Bayou, performed by the Ken Darby Singers), All the Cats Join In (performed by Benny Goodman; the action of the segment is drawn out by a pencil, showing 1940's teens and popular music of the era), Without You (a ballad of lost love, sung by Andy Russell), Casey at the Bat (featuring Jerry Colonna reciting the poem of the same name by Ernest Thayer, about an arrogant baseball player whose cockiness leads to his downfall), Two Silhouettes (featuring two live-action ballet dancers, David Lichine and Tania Riabouchinskaya, moving in silhouette with animated backgrounds and characters; the title song was sung by Dinah Shore, who would later narrate the Bongo segment of Disney's next animated classic, Fun and Fancy Free (1947)), Peter and the Wolf (narrated by actor Sterling Holloway, who also appeared in Disney's Dumbo (1941), Alice in Wonderland (1951), The Jungle Book (1967), and The Many Adventures of Winnie the Pooh (1977); the segment was based on Sergei Prokofiev's 1936 musical composition of the same name, about a Russian boy who sets out into the forest to capture a fearsome wolf), After You've Gone (featuring Benny Goodman and his orchestra, who also contributed to All the Cats Join In, as four anthropomorphized instruments parading through a musical playground), Johnny Fedora and Alice Blue Bonnet (in this segment, The Andrews Sisters sing the romantic story of two hats who fall in love in a department store window), and The Whale Who Wanted to Sing at the Met (narrated and performed by Nelson Eddy; in this segment, a musically talented Sperm Whale dreams of singing Grand Opera).
In 2000, Make Mine Music was released on VHS and DVD in the Walt Disney Gold Classics Collection video line.
Community content is available under
CC-BY-SA
unless otherwise noted.