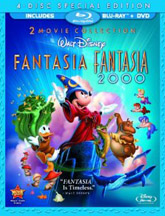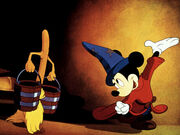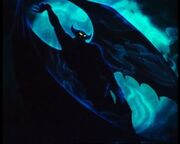 Fantasia
is a 1940 animated musical concert film, and the third film in the Walt Disney Animated Classics canon. The film was produced by Walt Disney, and was directed by Samuel Armstrong, James Algar, Bill Roberts, Paul Satterfield, Ben Sharpsteen, David D. Hand, Hamilton Luske, Jim Handley, Ford Beebe, T. Hee, Norm Ferguson, and Wilfred Jackson.
Fantasia
is made up of seven different animated segments accompanied by classical music:
Toccata and Fugue in D Minor
by Johann Sebastian Bach;
Nutcracker Suite
by Pyotr Ilyich Tchaikovsky; the iconic
The Sorcerer's Apprentice
by Paul Dukas, starring Mickey Mouse as the flawed sorcerer's apprentice who uses his master's magical hat to cause mayhem with marching broomsticks; Igor Stravinsky's
The Rite of Spring
, featuring the evolution of the Earth and dinosaurs;
The Pastoral Symphony
by Ludwig van Beethoven, set in Ancient Greece; '
Dance of the Hours'
by Amilcare Ponchielli, starring dancing hippos, octriches, and crocodiles; and the combined '
Night on Bald Mountain'
by Modest Mussorgsky, featuring the terrifying demon Chernabog, and Franz Schubert's
Ave Maria
.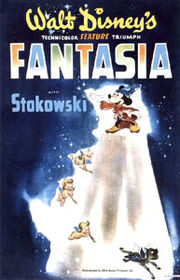 '
Fantasia'
is considered one of Walt Disney's crowning achievements, although the film initially bombed at the box office. The film holds a 98% certified "Fresh" rating on Rotten Tomatoes, and was selected for preservation in the United States National Film Registry in 1990. Walt Disney, William Garity, John N.A. Hawkins, and the RCA Manufacturing Company each won an Academy Honorary Award "for their outstanding contribution to the advancement of the use of sound in motion pictures through the production of
Fantasia
," and Leopold Stokowski and his associates won an Academy Honorary Award "for their unique achievement in the creation of a new form of visualized music in Walt Disney's production, '
Fantasia'
, thereby widening the scope of the motion picture as entertainment and as an art form."

AFI recognition: "AFI's 100 Years...100 Movies" (#58); "AFI's 100 Years...100 Movies (10th Anniversary Edition)" (nominated); and "AFI's 10 Top 10" (#5 animated film).
In 1999, the film was followed by a sequel, Fantasia 2000.
Community content is available under
CC-BY-SA
unless otherwise noted.